Welcome!
American Equipment Services is a proud member of the JCB Family of dealers. We believe we are entrepreneurs in the true traditions of Joseph Cyril Bamford.
JC Bamford started JCB with a vision to be one of the world's largest construction equipment companies. This was 1945. Today, JCB is one of world's top 10 manufactures operating in over 150 countries.

Today this global company retains Mr. JC Bamford's philosophy, and JCB continues to focus on the needs of each individual customer when designing and building its off-highway equipment.

Quality, reliability, and outstanding service has been the foundation of American Equipment Services since it's roots. We are proud to be in partnership with JCB. Both organizations have built their reputation by providing superior customer service. At American Equipment Services, we truly understand the level of commitment that is required to provide the rate of customer service that our end users truly deserve. Whether you need sales, lease, parts or service, American Equipment Services welcomes the opportunity to earn your business.

Read More
Company's Featured Listings
2021 JCB 3TS-8T
Contact for price
2019 Claas ROLLANT 340
Contact for price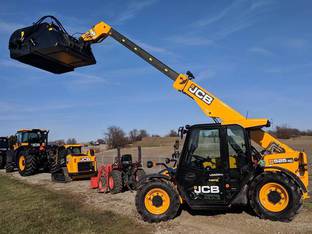 2020 JCB 525-60
Contact for price