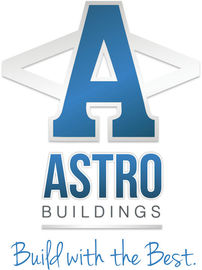 Build with the best. Build with Astro.
For over 46 years, Astro Buildings Inc. has been satisfying the building needs of its customers. Astro Buildings originally focused on constructing post frame buildings for agricultural storage,. Now, in addition to agricultural storage and shops, we construct post frame buildings for those with Equestrian, Light Industrial, Commercial or Suburban and Acreage structural needs as well. Astro Buildings also make great cabins and residential homes.
Located in Omaha, Nebraska, Astro Buildings builds post frame buildings throughout Kansas, Iowa, Nebraska, Missouri, South Dakota, Minnesota and parts of Colorado. Through our local dealers and sales staff, Astro Buildings strives to meet the unique needs of each customer. Astro Buildings works with you throughout the phases of your building's construction – from design to completion. We are dedicated to seeing that your Astro building meets your expectations.
Every Astro building is warranted for your protection. Your ASTRO building is warranted against roof leaks and snow load losses for five years after completion. The standard .60 CCA treated posts are warranted for 40 years against failure.
In addition, there is a limited, 30-year steel Manufacturer Warranty protecting against fading and chalking and a 25 year non-performation warranty against acid rain on the walls and a 20-year warranty for the roof against acid rain. The Grandrib 3 steel also has a 15 year edge rust warranty against acid rain.
Astro Buildings uses 29-gauge Grandrib 3 full-hard steel . This steel is hot-dipped in a G-90 galvanized zinc protective coating. This premium coating bridges minor cuts and scratches on the steel and resists rust formation. Additionally, the steel panels provide excellent resistance to hail damage. These panels exhibit an 82,000 psi, this high tensile strength steel carries a UL 2218 Class 4 hail resistance rating, the highest hail resistance rating given under UL 2218. The Grandrib 3 has a UL 790 Class A fire resistance rating.
The Enduracote paint system for the steel offers twenty different color choices to allow you to customize the appearance of your building. Numerous options and upgrades include but are not limited to steel sliding doors, overhead doors, skylights, eave lights, windows, walk doors, gutters, downspouts, overhangs, ventilation, cupolas, wainscot, lean-tos, partitions and more ensure your ASTRO building is designed to meet your specific needs.
Astro Buildings' typical building sizes range from 24' to 80' wide 8' to 18' tall, and may be built to almost any length. Custom widths, heights and lengths are also an option with an ASTRO building. An Astro Buildings' sales representative will work with you to determine the optimal size best suited for your purposes.
Read More
Equipment Types
Equipment Brands
| Manufacturer | Sell Equipment | Sell Parts | Service Center | Authorized Facility |
| --- | --- | --- | --- | --- |
| Astro Buildings | | | | |