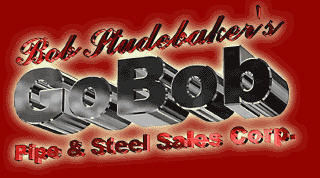 America's Steel Company
Looking for materials for horse fence, cattle fence, crrals or other types of fence? Well, you just found the place ith the best prices, quality, selection and customer service possible! Now we have added a complete line of money-saving steel products. From pipe & cable to rebar & beams, from paint & rust removers to plate & sheets, GoBob Pipe & Steel Sales is truly America's steel company!
Satisfaction Guaranteed
GoBob guarantees your satisfaction on every product we sell. Bob Studebaker personally assures you that we will accurately describe the reject and secondary materials we sell. These materials can save you thousands of dollars.
Help & Ideas on Fence Design
Feel free to call and ask for Bob himself. He has been providing steel and fence materials for over 25 years and has originated several livestock fencing systems. He will be glad to help you design and estimate the fence you have always wanted. With our diverse selection of fence materials, you can even choose between fence systems such as continuous fence, cable fencing, rod and pipe. We invite you to use this website for ideas to help you plan your fencing or steel building project.
Watch This Web Site
We just started building this website and we are working on it daily. Bookmark it as one of your favorites as we promise it will evolve into one of the most informative and entertaining websites you have ever browsed. Like Bob's forefathers who went from building wheelbarrows to wagons to the Studebaker automobile, he will always give you more than he promises. Be sure to look for and click on Bob's Smokin Specials in the future for unbelievable prices on steel products.
Notice:
As most of you are aware by now, the steel markets have been CRAZY for the last 4 or 5 months. It became impossible for us to keep it up with them so we quit trying until we felt like the prices had leveled out. Now that they are, we are temporarily removing all pricing from the site while we get ready to update them. In the meantime, all you gotta do to get prices is exercise your finger and punch in 1-877-851-2365. Oh yea, be sure to use the telephone.
Read More
Equipment Types
Equipment Brands
| Manufacturer | Sell Equipment | Sell Parts | Service Center | Authorized Facility |
| --- | --- | --- | --- | --- |
| Go Bob | | | | |