WELCOME TO JACOBI SALES
Where the variety of outdoor power equipment is second to none. In all of the Midwest, there isn't a friendlier or more knowledgeable staff than ours. We're happy to help you find either the perfect outdoor power equipment or the parts you've been looking for. Looking for the best in agricultural equipment? We are proud to offer Kubota tractors and Case IH for your larger industrial needs. We are experts in precision farming and can equip your tractor or farming implement with the latest GPS technology. Check out our brochures to see what we have. If you need help in making your selection, call or stop in—we're always ready to help!
We also stock dozens of gently used lawnmowers, tractors and ATVs. Have a piece of equipment that you'd like to get a trade value on? Just fill out our online trade evaluation form and we'll get back to you with an offer.
We are family-owned and operated with seven convenient locations in Kentucky and Indiana. Jacobi Sales can provide you with the latest and best in outdoor power products to make your outdoor living more enjoyable. Combine this wide array of selections with our friendly and knowledgeable staff, and we're convinced Jacobi Sales will become your only stop for all of your outdoor power needs.
We know individuality is important, which is why we pay close attention to the interests of each customer. From the minute you walk through the door, meeting your needs is our top priority. Founded not only on excellent customer service, but also on the principles of hard work and a focused attitude, Jacobi Sales has a long list of satisfied customers. Call or stop by; you'll be glad you did.
Jacobi Sales is a third generation business who has always maintained the best possible parts and service departments to insure long "trouble free" service. Our mechanics are seasoned and have attended training schools to ensure knowledgeable and efficient service to you, our customer, when called upon. In addition to the manufacturer's warranty, we pledge to provide you with a complete stock of parts to allow you to do preventative maintenance and to insure our service department is enabled to perform whatever service work you should request.
Our Mission:
TO SIMPLY BE THE VERY BEST DEALERSHIP IN OUR FIELD. TO PROVIDE OUR CUSTOMERS WITH THE BEST QUALITY PRODUCTS, THE BEST TRAINED SALES AND SERVICE PERSONNEL, AND THE BEST PARTS DEPARTMENT THEY HAVE EVER SEEN.
To attain our mission, we must first and foremost listen to our customers and satisfy their needs with the values and expertise they demand and deserve.
Read More
Company's Featured Listings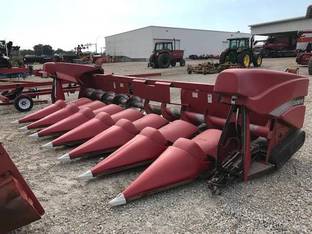 2008 Case IH 3408
$29,900.00 USD
Misc
Contact for price
Ag Leader PARADYME VEHICLE KIT
$4,000.00 USD