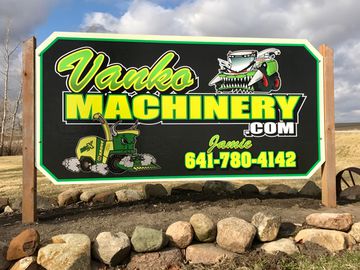 Welcome to Van Ko Machinery!
We are a family business located north of Pella, Iowa. The Van Kooten family has been farming for many years and selling farm machinery for over 18 years. For 15 years Van Ko Chopping LLC has specialized in the sales and service of Self Propelled Forage Harvesters and Forage Wagons. We are dealers for Meyer and Gnuse forage and dump wagons, Meyer's manure spreaders, Tebben, Roto-Press baggers and Artsway. If you don't see something you're looking for, we will find it!
Our experience and exceptional knowledge of this equipment comes from our 15 years of custom harvesting for over 70 of our local farmers and neighbors every year. We have excellent custom service and will go out of our way to make sure you have the parts and information you need to keep your equipment running smoothly all year. We look forward to you stopping by and checking out our inventory!
About Us
Dean and Betty Van Kooten started Van Ko Farms over 18 years ago selling various farm equipment. Their son Jamie repaired the machinery in the evenings and on weekends while working full time at Vermeer Manufacturing. The business flourished and eight years later Jamie left Vermeer and went into a partnership with Dean and Betty devoting all his energy to machinery repair, sales and customer service. Dean and Betty were then able to haul the machinery to customers anywhere and everywhere in the United States.
Van Ko Chopping was added at this time as they were growing and developing a strong customer base in custom silage chopping for neighbors and area farmers. We have included various short lines, Meyer and Gnuse silage and dump wagons, Meyer's manure spreaders, Tebben land rollers, Roto-Press baggers and Artsway products.
At the end of 2016 Dean and Betty retired from Van Ko Chopping to focus on their farming operation. With 17 years mechanical and operational experience Jamie will do his best to assist you with the equipment that will best fit your operation. His custom chopping and harvesting equipment sales experience enable him to answer any questions you may have. We hope you can stop by and take a look at our inventory. If you don't see what you are looking for he has many resources available to help you find just what you need. You can be confident that your purchase comes with incredible customer service any time of day and hassle free parts ordering.
The family business is located on an acreage near Pella, Iowa where Jamie and his wife Michelle and their four children reside. Their business is based on honesty, Christian family values and exceptional customer service.
Read More
Company's Featured Listings
2004 John Deere 3975
$20,000.00 USD
John Deere S670
$2,500.00 USD
John Deere Kernel Processor
$7,000.00 USD