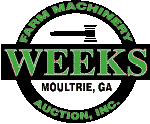 We Sell The
Second Wednesday
Of Each Month
Rain Or Shine
Weeks Farm Machinery Auction Inc. is one of the largest, most respected family owned and operated Auction Houses in the Southeastern Region of the United States. We have been holding monthly consignment auctions for the farming community since 1948. Our monthly consignment auctions are conducted on the second Wednesday of each month, rain or shine, at our 40 acres facility located in Moultrie, Georgia. These consignment auctions consist of over 1500 items, ranging from agricultural, construction, and industrial equipment to trucks, trailers, and miscellaneous items, which are sold for 200+ consignors each month.
Faithful and consistent buyers travel from the Eastern and Mid-Western United States, Canada, Mexico, England, and several Latin and South American countries to attend our auctions. We have also spread our name worldwide by offering buyers the convenient option of live internet bidding for each of our monthly auctions.
In addition to our monthly consignment auctions, retail inventory is available for purchase during our regular business hours. We also offer consignors our assistance with on-site liquidation sales at the location of their choosing.
Read More
Company's Featured Listings
2014 Toro 07066
$7,500.00 USD
2010 Toro 3500D
$4,900.00 USD
2015 John Deere 8000A
$7,500.00 USD