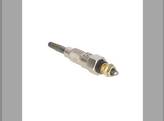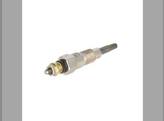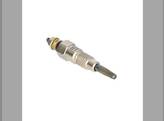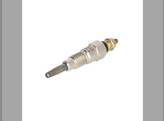 Glow Plug Compatible with John Deere 4010 4010 4010 755 755 755 655 655 655 Kubota M4950 M4950 M4950 L235 L235 L235 Hinomoto Massey Ferguson Deutz Allis Bobcat 853 853 853 553 553 553 Allis Chalmers
$9.00 USD
DE SOTO, IA
All of our new parts are aftermarket replacements. The use of original manufacturer's names and part numbers is for reference purposes only
Fits Allis Chalmers Tractor(s) 5015
Replaces Allis Chalmers OEM nos 72100982
Fits Bobcat Skid Steer Loader(s) 553, 853
Replaces Bobcat OEM nos 41-6582
Fits Deutz Allis Tractor(s) 5215 (Synchro & HST), 5220 (Synchro & HST), 5230
Replaces Deutz Allis OEM nos 72100982
Fits Hinomoto Tractor(s) E1804, E2002, E2004, E2302, E2304
Replaces Hinomoto OEM nos 6101-8321-00
Fits John Deere Tractor(s) 655, 755, 2210, 4010, 4100, 4110
Fits John Deere Skid Steer Loader(s) 375, 3375
Replaces John Deere OEM nos M87919, AT110814
Fits Kubota Tractor(s) B1200, B1400, B1500, B1600, B1702, B1902, B4200, B5100, B5200, B6100, B6200, B7100, B7200, B8200, B9200, L235, L275, L355, L2050, L2350, L2602, L3202, M4950
Fits Kubota Construction & Industrial(s) B20, KH8, KH18, KH28, KH60, KH90, KH170, R400B, R410, R410B
Fits Kubota Lawn & Garden(s) G3200, G4200, G5200, G6200
Replaces Kubota OEM nos 15261-65514, 15261-65510, 15261-65512, 15261-65513, 15694-65512, 15951-65510, 15951-65511, 15951-65512, 15951-65513
Fits Massey Ferguson Tractor(s) 1010, 1020, 1030, 1035
Replaces Massey Ferguson OEM nos 3284128M1
Replaces Bosch Mfg nos 0-250-202-110, 0-250-202-014, 0-250-202-015, 0-250-202-016, 0-250-202-017, 0-250-202-077
Replaces Champion Mfg nos CH102, CH129, CH161
Replaces NGK Mfg nos Y-103V
Replaces OEM nos 129155-77801, B1VPF3720
Overall Length: 72mm
Tip Length: 17.5mm
Thread: M10 x 1.25mm
Hex Size: 12mm
Core Type: Dual Element
All new, rebuilt and used tractor parts have a 1-year warranty
All States Ag Parts Item No. 124303

Sales Tax

We are required by law to charge sales in IA, NE, MO, MN, SD and WI because we have physical locations in each of these states. While most farm use items and items for resale are tax exempt in these states we MUST have a tax exemption certificate on file prior to completing your tax exempt purchase. Please contact us at 866-609-1260 and we can send the proper form to you via fax or email. Once you have completed the sales tax form and returned it to our offices (fax to 515-834-2196 or email to

[email protected]

) we can remove the sales tax from your order.
| | |
| --- | --- |
| Price | $9.00 USD |
| Name | Glow Plug Compatible with John Deere 4010 4010 4010 755 755 755 655 655 655 Kubota M4950 M4950 M4950 L235 L235 L235 Hinomoto Massey Ferguson Deutz Allis Bobcat 853 853 853 553 553 553 Allis Chalmers |
| | |
| --- | --- |
| Category | Electrical |
| Stock Number | 124303 |
| OEM Stock Number | 129155-77801,B1VPF3720,72100982,41-6582,72100982,6101-8321-00,M87919,AT110814,15261-65510,15261-65512,15261-65513,15261-65514,15694-65512,15951-65510,15951-65511,15951-65512,15951-65513,3284128M1 |
| | |
| --- | --- |
| Allis-Chalmers | 5015 |
| Bobcat | 553, 853 |
| Deutz Allis | 5215, 5220, 5230 |
| | |
| --- | --- |
| Hinomoto | E1804, E2002, E2004, E2302, E2304 |
| John Deere | 2210, 3375, 375, 4010, 4100, 4110, 655, 755 |
| Kubota | B1200, B1400, B1500, B1600, B1702, B1902, B20, B4200, B5100, B5200, B6100, B6200, B7100, B7200, B8200, B9200, G3200, G4200, G5200, G6200, KH170, KH18, KH28, KH60, KH8, KH90, L2050, L235, L2350, L2602, L275, L3202, L355, M4950, R400B, R410, R410B |
| Massey-Ferguson | 1010, 1020, 1030, 1035 |