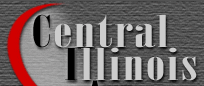 200 years Experience in the Agriculture Implement Industry
Bill Marcotte, Dave Evans, Mike McCartney, Tim Reeser, Steve Schmidt ( Steve is front center)
Central Illinois Ag, formerly Schmidt-Marcotte, Inc. & Geroge H. Dunn, Inc. have joined together to bring Midwest farmers the best in agriculture and lawn and garden equipment. The four locations in the Heart of the Illinois Prairie are conveniently located to provide farmers assistance in sales, service, parts in both new and used equipment.
The business has changed from a one-man blacksmith shop in 1989 to a multi-line implement dealership with $30 million in sales and 70 employees, many with over 20 years experience. Steady growth of the business can be attributed to a series of mergers and consolidations beginning in 1984. The merger of Schmidt-Marcotte, Inc. and George H. Dunn on Jan. 1, 2001, both family-based dealerships brought together over 200 years of family ownership and pride. Major lines include CaseIH and New Holland; other lines include Kinze, BushHog, Woods, Land Pride, Landoll, DMI, M & W, Great Plains, Brent, J & M, Hardi, Yetter, Cub Cadet, Dixon, Dixie Chopper, Grasshopper, and Toro.
The Central Illinois Ag team, the most progressive and inovative in the industry, is committed to serving its customers in a professional and promt manner, We welcome the chance to serve you.
Read More
Company's Featured Listings
2020 Toro 21386
Contact for price
2010 Kinze 3700ASD
$82,500.00 USD
2020 MacDon Industries FD135
$74,500.00 USD