Four generations ago the first Lasseter (El Lasseter) bought into a what was then called Darbyshire Tractor Company as co-owner. This began an agricultural legacy in South Georgia that extends down to today. Since the early 1940's the name Lasseter has been the trusted standard of the farm equipment business, whether you needed a tractor, combine, cotton picker or tillage equipment you knew you would always be treadted fairly and with consideration when you delt with the Lasseter family.
In December 1956 El's son Willard bought in with his father therby sealing the Lasseter name as the Premier John Deere Dealership in Georgia. But niether of them could have possibly anticipated the tremendous growth ahead as the agricultural equipment business grew. Later in the 1980's the next generation came into the dealership when Tony Laseter became the next Lasseter partner, and Tony's son Judd grew up in the dealership learning the business as he grew. Today the fourth generation Lasseter is sitting at the captian's helm as Lasseter has grown to multiple dealerships throughout Gerogia, providing quality equipment, courteous service, and the right parts at the right time.
Today with over 90 employees and thousands of years of combined experience Lasseter Equipment is setting the standard that other dealerships strive to imitate, and yet with all their success their business philosophy has not changed, the motto remains:
"YOUR BUSINESS IS ONLY AS GOOD AS YOUR EMPLOYEES"
That was true in the 1940's and it remains true today. So Judd Lasseter invites you to call or visit him and see the difference at Lasseter Equipment. At Lasseter we carry the equipment you want. Of course John Deere leads that list but we also carry KMC, Amadas, Brown, Rhino, Vans sprayers, Lewis Brother, Atherns, and Kuhn hay equipment as well as a full selection of livestock supplies. Lasseter Equipment's service department is second to none with only the best trained technicians in the industry. If you need parts our parts department is as complete as they come. So when you need equipment, service, parts or just want to share a good story, stop by your nearest Lasseter Equipment location today --- you'll be glad you did!
Read More
Company's Featured Listings
Ag Chem TG7300
$59,000.00 USD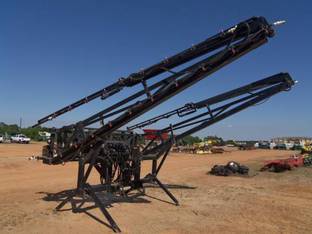 Misc 24 Row
$15,000.00 USD
John Deere 7100
$7,500.00 USD