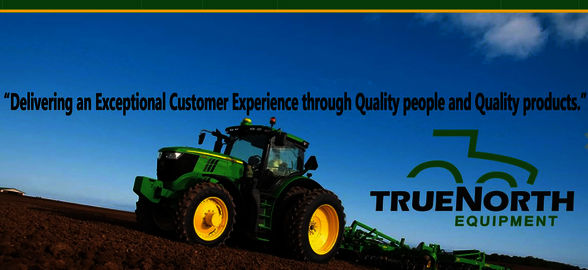 True North Equipment: A Long and Dedicated Company History
The regional John Deere dealership True North Equipment traces its origin back to 1897, when the Brosnahan & Olson Company began selling John Deere plows in the pioneer farming community of Grafton, ND. Brosnahan & Olson was one of several local businesses that saw the potential in selling John Deere products to ambitious farmers of the Red River Valley. By 1931, agriculture was experiencing a major transition. Horse-drawn implements were going out and the Farup Auto Company in Grafton began to see farmers trade their work horses in for 2-cylinder John Deere tractors. Demand became so strong that Farup kept a large horse stable near Park River, ND for the trade-in horses.
Due to this growing demand, Farup secured exclusive rights to sell the John Deere line. Over the next decade, John Deere sales strengthened the company, eventually earning the distinction of being the largest volume John Deere dealer in the nation.
Early in the 1940s, the local Chevrolet dealership Overbye & Scidmore took over the John Deere line and quickly realized the challenge of meeting the demand for their newly acquired products. Grafton farmer Oliver Gorder met that challenge in 1948, when Overbye & Scidmore hired him to oversee the John Deere sales functions of their business. Later that year, a visiting John Deere executive from Minneapolis determined the time had come for the Grafton location to stand alone as a John Deere franchise. This decision led to an agreement in 1949, in which Oliver Gorder and partner Paul Torgeson purchased the John Deere franchise from Overbye & Scidmore. Gorder and Torgeson established a new location in Grafton and opened their doors in the fall of that year. Gorder later purchased the John Deere Dealership in Larimore, ND and ran both dealerships until retirement in 1975.
Gorder and Torgeson continued to have success with the John Deere line and in August of 1960, Deere & Company introduced the new 4010 rowcrop tractor. This major change was introduced to the area farmers with mixed results. Many farmers were loyal to the 2-cylinder tractor concept but slowly the new 4010 tractor caught on. In 1963, the follow-up model was released and called the 4020. In 1964 and 1965, demand was high for this new model. Gorder and Torgeson Implement received the top rowcrop tractor sales award from the Minneapolis branch in 1965.
It was then that Lloyd Holy, a Deere & Co. territory manager from Minneapolis, purchased the business and formed a new corporation on November 1, 1975. The new corporation named Grafton Equipment Co. included eight employees and operated for approximately 18 months in the same location. In 1977, Holy built a brand new facility on an eight acre lot west of Grafton that included an 18,900 square foot store and a 9,000 square foot warehouse.
Joining the company in 1982 as a parts salesman, Oliver's son Dan Gorder was named general manager and president in 1997. Dan is a 1982 graduate of North Dakota State University with a degree in Ag-Economics.
In 1998, John Oncken came to Grand Forks as a John Deere Territory Manager. Oncken graduated from the University of Wisconsin-Platteville in 1988 with a degree in Ag-Engineering. In his role, Oncken encouraged Gorder and Holy to expand. One year later, Grafton Equipment Co. made another major move in purchasing Grand Forks Equipment in Grand Forks. A promising endeavor, the Grand Forks location brought exciting new opportunities including its expanded offering in John Deere Agriculture, as well as lawn & garden 'Turf' product lines.
The Grand Forks store proved to be the first of three acquisitions the company would make over the next seven years. The second occurred in 2003 when Grafton Equipment Co. purchased the assets of Urbaniak Implement in Kennedy, MN. This expansion into northwest Minnesota was a strategic attempt to target the strong and growing customer base that lived and farmed in the area.
Another big year for the company came in 2006 when Lloyd Holy announced his retirement soon after he and Gorder declared John C. Oncken their new partner. Oncken had an 18 year career with Deere & Co. with the last 8 years as a territory manager, officially transitioned into a shareholder and company vice president on April 1, 2006. A month later, Grafton Equipment Co. purchased Pederson Implement in Northwood, ND and Oncken became the location's general manager. This location underwent extensive remodeling and restructuring to meet new standards of quality and service.
In 2010, Gorder and Oncken began work on a strategic shift that would continue to strengthen and grow the company. That strategic plan included the scheduled buyout of Lloyd Holy, redefining the company's organizational structure and finalizing a corporate name change. The buyout of Holy's remaining shares of stock occurred in June 2011, and by October, Grafton Equipment Co. officially became True North Equipment, a name rich in symbolic meaning for the two owners and more conducive to new global opportunities in the marketplace.
Phase two of the plan began in 2012, when True North Equipment announced its shift to a new organizational structure that would focus on 'Smart Growth' and building upon 'Core' strengths. The announcement began a journey that allowed True North Equipment to add key positions throughout the company, strengthening each of the business segments and adding a new level of stability within the corporate team.
Throughout 2012, the owners of True North Equipment continued to build upon their future vision of the company. Among their determinations was the historic decision to add a new corporate facility in Grand Forks. The True North Resource Center is a state-of-the-art facility expected to enhance the True North team's ability to provide custom training partnered with an exceptional customer experience. This focus of hands-on and next-generation distance education along with cutting-edge technology development will be the next chapter in True North Equipment's future growth and tradition of innovation. A groundbreaking ceremony on May 6, 2013, marked the future home of the True North Resource Center located at 4325 18th Avenue South in Grand Forks.
Earlier the same year, on March 25, Gorder and Oncken announced Duane Kautzman would join True North Equipment as a shareholder. Officially onboard April 15, Kautzman became the company's new corporate sales manager and brought with him nearly 25 years of banking and John Deere Company field experience. He most recently held the position of Territory Manager for John Deere in Bismarck. Kautzman is a 1989 Magna Cum Laude graduate of Minnesota State University Moorhead with a Bachelor of Science degree in Business Management. In 2000, he completed his Masters in Business Management from the University of Mary in Bismarck.
True North Equipment is truly an industry leader in farming innovation. As signified in their corporate logo, a forward-looking tractor blazes the trail into the future of global food production. From Oliver Gorder's first rubber tire experiments in the 1940s, Lloyd Holy's work on introducing narrower row crop tires to the Upper Red River Valley, to the company's extensive involvement with Deere & Co. in the development of the GPS guidance 'Autotrac' system, True North has earned national recognition for its leading edge involvement in Integrated Solutions/Precision farming practices. Not only has it become one of the largest John Deere dealers in the Red River Valley, it is squarely within the top 10% of John Deere dealers worldwide. This success has been possible through a loyal customer base created through quality products, quality people and a quality customer experience.
Read More
Equipment Brands
| Manufacturer | Sell Equipment | Sell Parts | Service Center | Authorized Facility |
| --- | --- | --- | --- | --- |
| John Deere | | | | |
Company's Featured Listings
2020 John Deere S780
$397,159.00 USD
2017 John Deere Spreader
$1,100.00 USD
2018 John Deere 1025R
$11,600.00 USD